Remember the stunning London backdrop in Love Actually? Just don't forget Hugh Grant's dapper dancing moves in his office. If you're a movie-buff, London has been the destination for some of the most memorable movies in cinematic history. From Harry Potter to James Bond, Notting Hill to Bridget Jones's Diary, the scenery is as diverse as it comes in these box office hits. Here's our guide to film locations in London.
Film Locations in London
Harry Potter is not the only beloved franchise to grace these shores; the fourth Pirates of the Caribbean film was shot in the Old Naval College in historic, Greenwich. Also, Waterloo Station provided a frenetic backdrop for hero, Matt Damon, in the third installment in the Bourne series. Read on as we reveal some of the most famous filming locations around London!
Harry Potter and Platform 9¾ at King's Cross Station
King's Cross Station is where it all began for Harry, Ron and Hermione. Look out for the 'entrance' to this secret platform for a fabulous photo opportunity. Strike a pose! It makes the best London souvenir. There's also a delightful gift shop to pick up some Harry Potter goodies for friends and family back home.
Notting Hill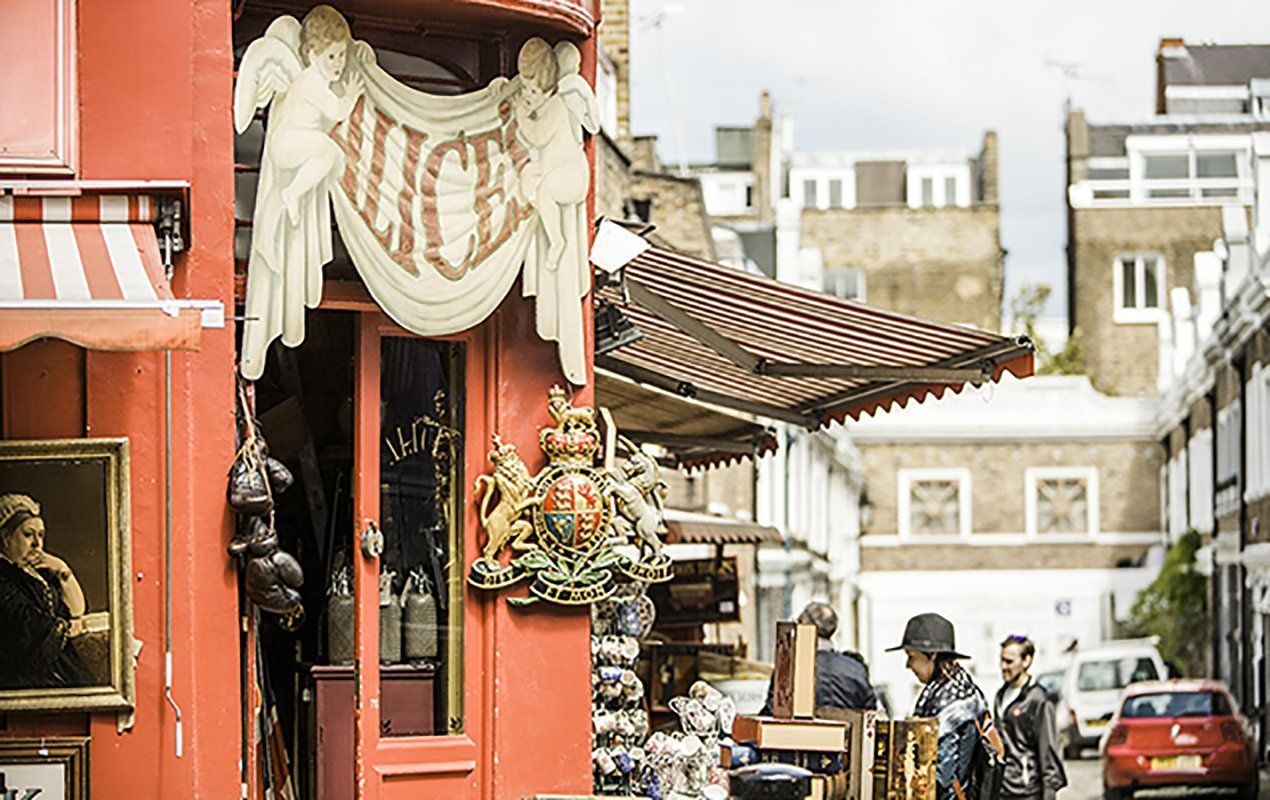 Take a stroll down Portobello Road where Will Thacker (aka Hugh Grant) agonized about his relationship with Hollywood megastar, Anna Scott, played by Julia Roberts. You will spot famous antique stores such as Alice's (pictured above) to charming little cafés. You'll feel as if you're in the film yourself as you wander along the beautiful tree-lined streets and quaint, pastel-colored homes.
…and the Travel Book Shop
You can also visit Will Thacker's place of work in the film. Sadly, not a rather lovely travel book shop, but instead, a shoe shop. Still it's nostalgic. Look out for the blue plaque marking the spot. See the location here.
Bridget Jones's Door
Home to Bridget, her unusual dinner parties, and dramatic romances with Daniel Cleaver and Mark Darcy, it's also above a great pub and right next to Borough Market. And yes, another film from our quintessentially British export: Hugh Grant!
Pirates of the Caribbean: On Stranger Tides in Greenwich
Explore the Old Naval College in Greenwich where scenes were shot inside and out for the fourth installment of the Pirates of the Caribbean series. Also, acting as 'Paris Square' for Les Misérables and 'Lilliput' for Gulliver's Travels as well as the funeral scene for Skyfall. For more ideas on where to go in Greenwich see our blog post.
The Millennium Dome Rooftop in James Bond
See for yourself where Pierce Brosnan rolled down the roof of the Dome as oo7, in a thrilling escape sequence. It has since been renamed 'The O2' and is now one of the leading music venues in London, showcasing the greatest artists globally.
MI6 in Skyfall
If you're taking a trip down the Thames by boat (and we certainly recommend you do), look out for MI6, home to the British Secret Intelligence Service. We also think a boat ride is one of the best ways of exploring the city and a quick and convenient way of getting to your chosen destination.
Bourne Ultimatum at Waterloo Station
Waterloo Station was the dramatic backdrop for Matt Damon as he came to the rescue of the hapless Guardian journalist in the third installment of the thrilling Bourne films. We can just imagine Matt escaping victoriously among the mass of London commuters.
Four Weddings and a Funeral at The South Bank
Where Hugh Grant (yes, him again) struggled to say 'I love you' to his beloved, Andie MacDowell, in Four Weddings and a Funeral. It's perhaps one of the most romantic spots in London for this reason alone. It's also home to the National Theatre, which presents up to 25 new shows a year.
Love Actually at Selfridges
Ah, Love Actually. At Selfridges, Rowan Atkinson seriously took his time wrapping up a gift for the philandering Alan Rickman in perhaps one of the most comical scenes in the movie. You can easily spend a leisurely afternoon here at this iconic store, with all your shopping needs conveniently under one roof.
For your next stay in London, our friendly reservations team are on hand to help you select one of our stunning family vacation rentals, like our Leicester property right in the heart of Notting Hill near Portobello Road. We can also help with shopping, itineraries, tours, dining reservations, and customized private experiences. Email us today for more information.