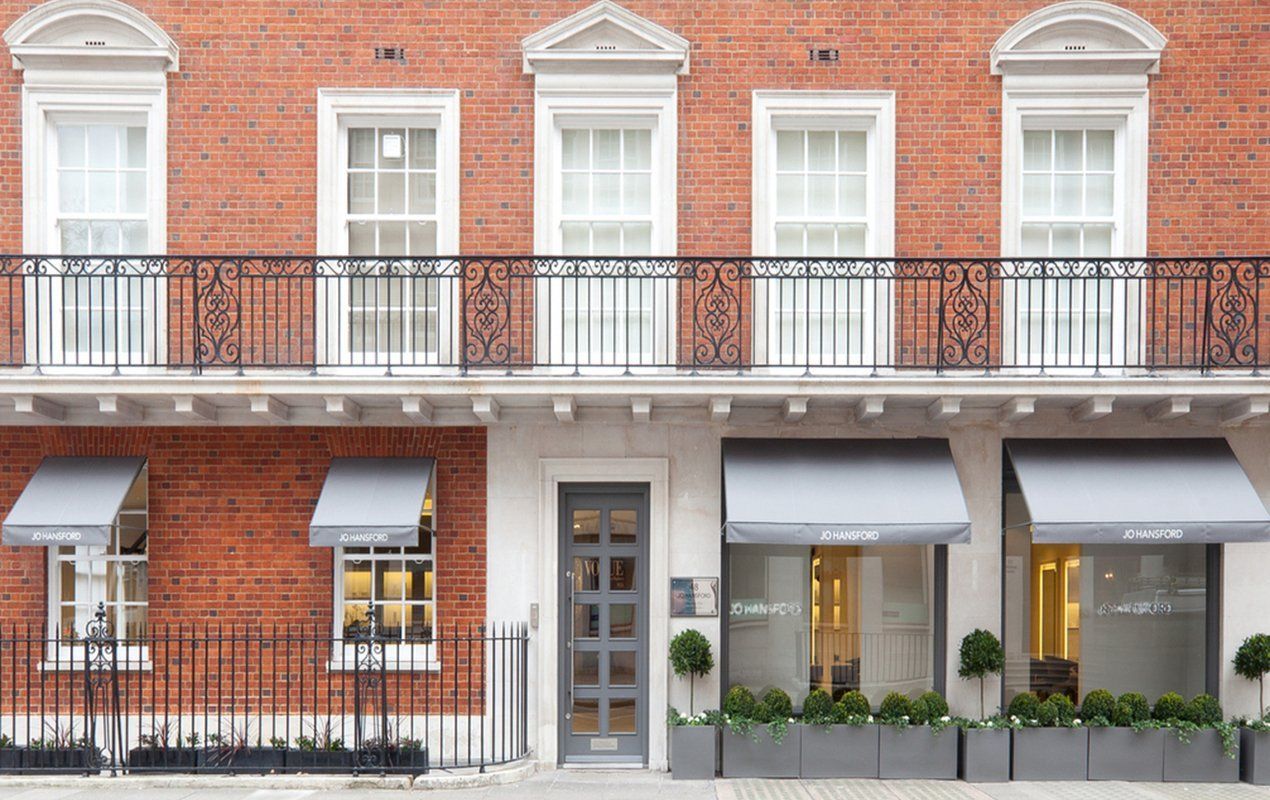 British celebrity hair colorist Jo Hansford was described by US Vogue as "the best tinter on the planet." She received an MBE in 2011. This formidable entrepreneur faced skepticism when she launched her hair salon in 1993 – as a woman. It was speculated she would only last three months. After remortgaging her home to start her company, she has now been in business for 24 years.
Specializing in hair color and tinting, Jo's clients include Angelina Jolie, Elizabeth Hurley and The Duchess of Cornwall. Her salon on Audley Street in Mayfair is just a short meander from some of our handsome London Perfect residences.
We were keen to chat with Jo about her business and on all things hair.
How did you first become interested in color?
I originally wanted to be a make-up artist and was offered an apprenticeship at the BBC. However, I needed to be 19-years-old to start and I was only 16 at the time. They suggested I learn hairdressing first, as it would be needed as well. I started working for Vidal Sassoon. However, I realized that I was not particularly keen on the styling element but loved the color department. After that, I decided not to pursue my career in make-up and to focus on being a color specialist instead.
What goes into deciding the best colors for clients? 
The client consultation is the most important part of what we do. You have to take everything into consideration when deciding on what colors and techniques to use. Skin tone makes a huge difference to what colors will suit you – as does eye color. You also have to consider the client, their budget and lifestyle. This is to find out whether they can commit to what they want for the long term. For instance, some techniques such as highlights and balayage require less commitment. Having a tint takes more maintenance, as regrowth is more noticeable.
What made you decide to go for it with your own business? 
I reached a point in my career where I realized I did not want to work with anyone else and I should consider opening my own salon. It was incredibly hard and challenging but we have now been in business for 24 years. All the hard work and commitment has paid off.
What was your moment of glory? 
My moment of glory was receiving an MBE for services to the hairdressing industry in 2011. It was a real honor. Obviously, the bigger you grow the business the harder it becomes and human resources is definitely one of the most challenging parts of it. However, my daughter Joanna has been the managing director for 16 years now and handles all that side of things and the running of the business. This means I can focus on my clients which is still my passion.
I also love staff development. Most of our staff are homegrown. This means they have trained with us and then qualified, and now have fabulous client bases of their own. It makes me very proud. I also feel incredibly lucky to still be passionate about what I do and be in a career that I love.
Who are your most famous patrons?
I have looked after a host of high profile people over the years including Angelina Jolie, Elizabeth Hurley, Yasmin Le Bon and Camilla, Duchess of Cornwall. They are all delightful and I am honored to be in such a fabulous industry, where I can color their hair.
Jo has bottled all of her knowledge and has launched Jo's Expert Colour Collection, a product line which suits natural and colored hair. The range uses the patented anti-fade formula which gives hair a superior gloss and lustre, ensuring a good hair day.
For your next stay in London, our friendly reservations team are on hand to help you select one of our stunning family vacation rentals near Mayfair. We can also help with shopping, itineraries, tours, dining reservations, and customized private experiences. Contact us today for more information. 
Photos: Jo Hansford