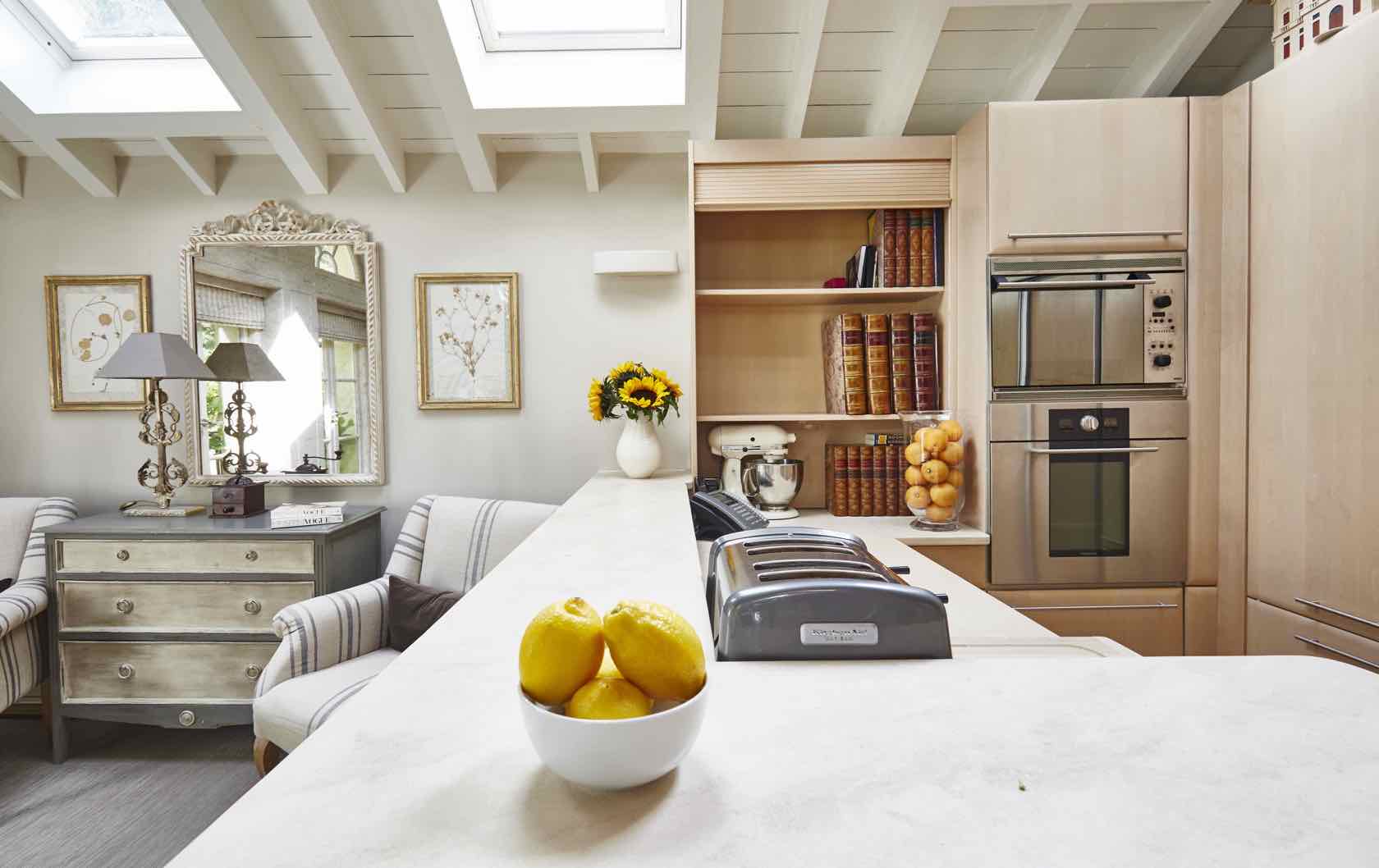 One of the biggest perks of staying in an apartment instead of a hotel is you get access to your very own private kitchen. Though luxury kitchens in London aren't always a given in a vacation rental, London Perfect boasts the kind of kitted-out kitchens that wouldn't look out of place in a glossy interiors magazine. From morning coffees and croissants to full-on dinner feasts, our London Perfect apartments come with kitchens suitable for every level of cook. See for yourself!
7 Luxury Kitchens in London:
The Sloane
With sleek natural wood, stainless steel, lofty ceilings and big windows, the modern Sloane is the picture-perfect example of one of the best luxury kitchens in London. Set near the bustling Sloane Square, it's well situated for a shopping trip to the open-air Fine Food Market in the Duke of York Square. Every Saturday, the square is outfitted with artisan purveyors selling the most amazing homegrown and homemade products. Pick up some freshly baked bread and free-range eggs to whip up a farmhouse breakfast in the comfort of your luxury home.
The Churchill
Set in the heart of Chelsea, the sun-filled Churchill has the kitchen of your dreams. There's even a pretty chandelier! Large bay windows flood the space with light. With period touches but up-to-date luxuries, this is a workable, practical space that also has plenty of charm and character.
The Victoria
Cooking for the whole family? Stay at the massive Victoria in South Kensington. Sleeping eight, this is one of our top picks for families. The open-plan airy kitchen is a delightful working space for any chef. And there's plenty of room for everyone. In addition to the dining room table seating six, there's also an outdoor patio table seating six as well. (In fact, the enviable backyard patio is one of our favorite outdoor spaces out of all of our rental properties.)
The Gladstone
Contemporary and stylish, the kitchen at the Gladstone in Kensington is designed with chefs in minds. The streamlined layout makes cooking quick and easy with everything within reach. Along with a dining room table seating four, there's also cute outdoor seating for two, making dining at home an absolute joy. Stop by the nearby artisan food market and wine store, Jeroboams to treat yourself to some delicious local English cheeses. They also have an incredible wine selection featuring wines from all over Europe and even the United Kingdom. Try some local English sparkling wine from the South East part of the country (i.e. Sussex and Kent).
The Danebury
Notting Hill locals love to get up early to shop the Portobello Road Market for fresh food to enjoy throughout the weekend. And if you're staying at the Danebury, you can do the same. Shopping on Portobello Road is a real treat—especially if you're a foodie. From Elgin Crescent to Talbot Road, gastronomes go gaga for the stalls of farm-fresh fruits and vegetables, local cheeses, baked goods, and even fish and meat. There's also a somewhat hidden farmer's market by the Notting Hill Gate tube station. If you're staying in Notting Hill, you can rest assured that you will not leave hungry.
The Portland
Sleeping two with one bedroom and one bathroom, the kitchen at Chelsea's Portland apartment provides plenty of space. With gleaming white surfaces and chic glass accents, this space is accessible and welcoming. Also, the outdoor table set out in the backyard makes for a lovely al fresco dining spot. There are plenty of chic little grocers nearby on Kings Road where you can shop for ingredients to whip up a romantic meal.
The Austen
Separated by lovely French doors, the Austen has a gorgeous separate farmhouse kitchen. With a pretty subway tile backsplash and butcher's block countertops, this kitchen is small but pretty. Try cooking up a traditional British dish like cottage pie. There's also a separate breakfast nook off of the living room that seats five at a charming wooden table. Eating a home-cooked meal is a great way to connect as a family while on holiday.
Ready to cook up a storm in one of these luxury kitchens in London? Contact us today and we'll help you find the perfect kitchen—and home—for your next trip to the capital.