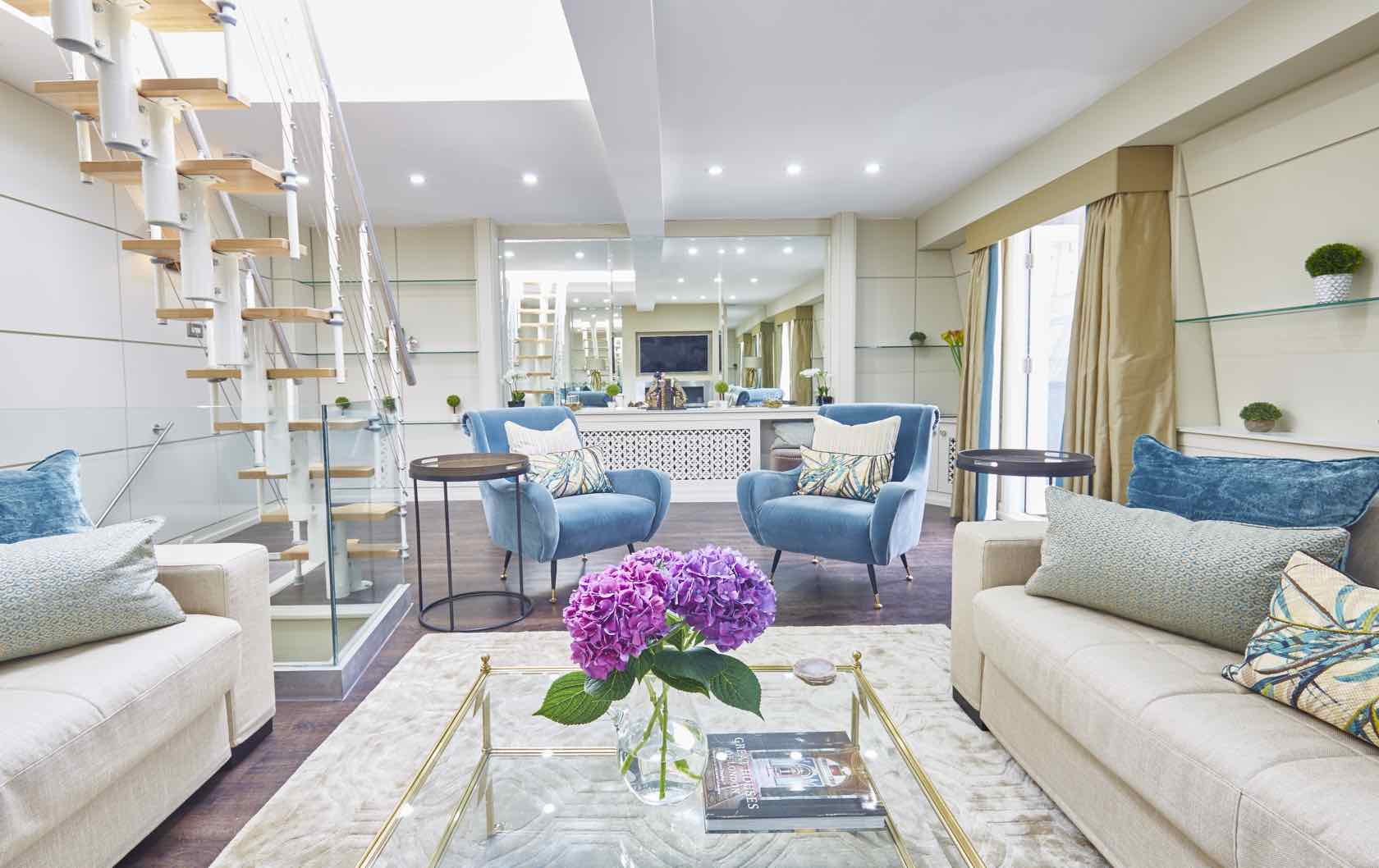 London is known as a city with superior style. From the fashion to the architecture and interior design, this is one chic city. To show off its swanky side, we're rounding up just a few of our most stylish London vacation apartments that anyone with an eye for design would appreciate. Here's where to stay if you're looking for a home with high style and fashionable vibes.
Stylish London Vacation Apartments
Danebury
Nestled in a Notting Hill mews, the Danebury is designed for showing off. The living room is magazine-ready and the rooftop deck is just as photogenic. The color scheme and style really suits its location. Notting Hill is one of the coolest and most creative neighborhoods in West London. If you have any doubts, then just check out the art-filled Portobello Road Market packed with fashion, food and antiques.
Victoria
Every single room in this four-bedroom and three-and-a-half bathroom South Kensington home is an interior design dream. The Victoria is certainly one of our very favorite stylish London vacation apartments. Even the exterior is gorgeous. We're partial to the eclectic, chic style of the living room (pictured above). With pops of color, animal print and fascinating objets d'art, it makes for an elegant place to call home on your next trip to London.
Sloane
There's something almost spa-like about the cooling neutral palette of the Sloane in Chelsea. In fact, with its sleek natural wood and stainless steel kitchen, the Sloane also makes our pick as one of our favorite kitchens in our London Perfect apartments. All three bedrooms and the living room share the same pared-back handsome style that's welcoming but also still on trend.
Gordon
With one of the very best tucked-away locations, Kensington's Gordon apartment is so cheerful with its blue-and-yellow color scheme. Artwork, like vintage prints, mirrors and graphic patterns liven up this boutique-style space. Also, this one-bedroom, one-bathroom rental gets plenty of light, making it one of our sunniest and most stylish London vacation apartments.
Eldon
The three-bedroom Eldon is one of our several lovely mews homes for rent. Though mews are often some of the oldest properties in London (they were former stables, after all), the Eldon has a modern interior design style. With a decorative fireplace and bedrooms bedecked in charming wallpaper, this is one of our stylish London vacation apartments that is anything but expected.
Cornwall
With feminine, delicate touches that evoke an old-world feel, the Cornwall is just an amazing rental with plenty of surprises. There's even a lovely English garden. Also, it has the most charming small conservatory in the back. Though you may find it hard to leave, it's just steps away from Kensington Gardens and Hyde Park. What's not to love?
Coleherne
We just love the sleek, spacious style of the Coleherne in Kensington. There are two bedrooms and two-and-a-half bathrooms, as well as some outdoor space. Throughout, the clean, cool atmosphere continues. With a glossy, cherry-red backsplash, the kitchen is also visually impressive and ultra cool.
Churchill
The Churchill, in Chelsea, has all the ambiance and classic styling of French countryside farmhouse. Hardwood floors and toile lamps pack in the rustic charm. In addition to the lovely interiors, the Churchill is also housed in a Victorian building so expect plenty of character—inside and out.
Cavendish
How cute is the Cavendish, a two-bedroom, two-bathroom vacation rental in Kensington? Close to all the action of South Kensington and Chelsea, the Cavendish is well situated for those who want to be in the heart of the action. And the interiors are just lovely. Expect pops of bright colors, plenty of cool graphic artwork and fun lighting fixtures. We especially love the use of hot pink in the living room. It's playful and fun without being heavy-handed or overwrought. And the same could be said about the cool-blue master bedroom and the fun, sunny kitchen.
Austen
With soothing white walls and splashes of blue and greens, the Austen is a perfect pick for families with older children. Both bedrooms follow a similar vibe. The master bedroom has calming shades of yellow with a pretty chandelier. And there's a twin room with popping artwork and another cool light feature. The living room, which feeds into a charming kitchen, is just perfection. The built-in shelves are filled with books, and there's even a little desk nook hidden in the entryway.
Ready to play house in one of these gorgeous homes? Get in touch with the London Perfect team today. These are only a few of the well-dressed apartments that you could call home on your next trip to London.