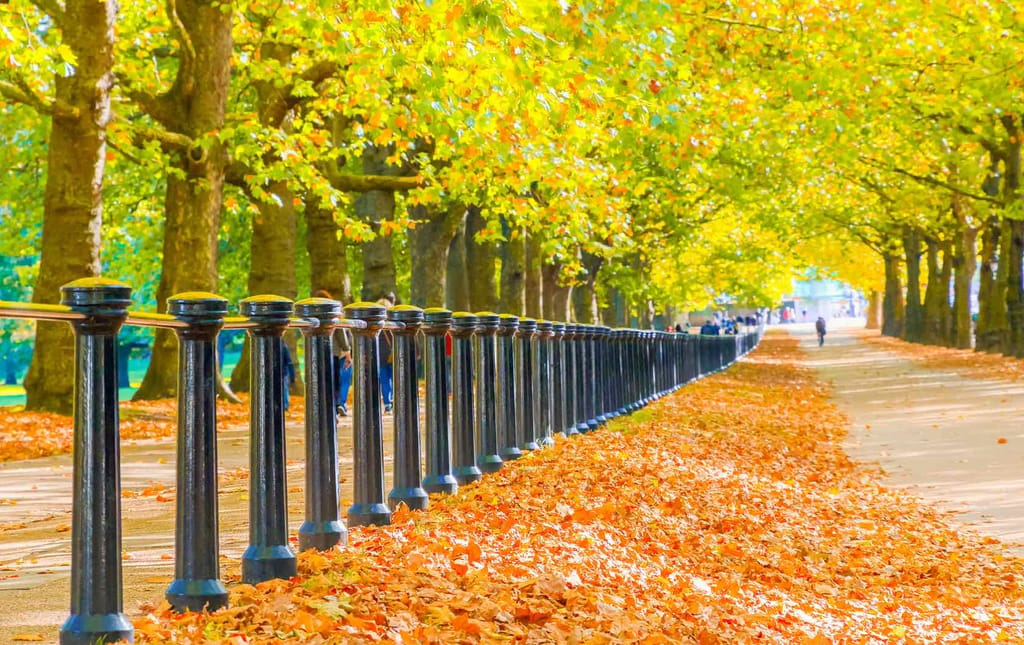 Autumn has officially arrived. It's time to start ordering up toasty pumpkin spice lattes, lighting fires in the fireplace and donning cozy, warm knits. (Or you can try sporting a Barbour jacket to look like a proper Brit!) It's also the season to spend some quality time doing some leaf peeping. For those in the know, London and its vicinity offer up some breathtaking displays of autumn colors. Here's where to go to see the very best and brightest fall foliage in London. (You don't even have to travel very far!)
Places To See Fall Foliage In London:
Holland Park
Nestled in the quiet and aristocratic neighborhood of Holland Park, this eponymous park is unexpectedly woodsy. While you're roaming along the leaf-carpeted trails of Holland Park, you'll feel like you're in the middle of the famous English countryside. Pack up a few snacks and spoil yourself with a fall picnic, as this is one of London's best picnicking spots.
The lovely vacation apartment, Phillimore is just around the corner.
Richmond Park
For a real taste of the great outdoors, you don't have to travel far at all. London's Richmond Park is set in the Borough of Richmond upon Thames in the southwest of the city. Not only is this massive, 2,500-acre parkland spread with a kaleidoscope of colors, it's also the home to free-roaming red and fallow deer. And autumn is rutting season, so get ready for the deer to put on a show, as the males clash antlers to assert their dominance over the herd. (Just be sure you keep a safe distance.)
The Cotswolds
A jaunt to the rugged and rustic English countryside is a must on those cool autumn days. Why not give London Perfect's Cotswolds tours a go? There's the Warwick Castle, Stratford, Oxford and the Cotswolds Tour, which features a full day in the English countryside with a fascinating historical focus. Also, there's the Blenheim Palace, Downton Abbey Village and the Cotswolds Tour, which is especially magical in the fall, as it includes leisurely drives down England's most picturesque country lanes in the quaint villages of Bibury, Bourton-on-the-Water and Bampton.
Winkworth Arboretum
Set in Surrey, Winkworth Arboretum makes for a stunning escape from the city. This scenic woodland is accessible from London by car, train or bus, and it can be done as a day trip. With a packed fall schedule of events, which includes sunrise strolls, pumpkin carving and autumn color walks, this hillside arboretum will keep the whole family entertained. Also, with over 1,000 different species of trees, bursts of colors are guaranteed. The rich scarlets and reds of the park's ancient oaks and maple trees are especially magnificent.
Regent's Park and Primrose Hill
For the brightest of displays, check out Regent's Park. Featuring shades of gold and yellow that seem to glow from within, you will not want to forget your camera. Also, be sure to take a stroll up the nearby Primrose Hill. From there, you'll get epic views of Regent's Park and the city skyline.
Your London Perfect Vacation Apartment:
Lots of our London apartments come with outdoor space, so what better way to enjoy the fall foliage in London than from your own private garden, backyard or balcony?
Also, the Austen's communal English garden is a serene place to watch the leaves fall. And at the historic Gloucester, the living room and two of the four bedrooms overlook a dreamy private garden square. Lastly, don't miss the views of the garden off of the balcony of the Salisbury. Take a hot cup of tea outside and just enjoy the brisk weather.
The fall foliage in London shouldn't be missed. If you're ready to cross the pond this autumn, get in touch. We can help you find the ideal vacation rental for every season.