Last week, we posted our Super Shopping Bargains blog and had a record response! There has never been a better time in history to come to London: the world-famous attractions, the food, the history — and especially, the bargain shopping. Take a look at our price comparisons for many of the leading fashion items.
With the US dollar hitting a 31 year high against the pound, prices have never been better. Even better are our incredibly low prices on our fabulous London apartments!
To tempt you even more, we've created a London Shopping Guide of all the major shopping streets you should be visiting on your next trip!
A trip to London is always an irresistible prospect, but, with great savings to be made, you couldn't ask for a better time to visit the city. Our world-famous shopping scene is such a treat for any well-heeled fashionista.

With the dollar at lifetime lows, you'll find great prices year round. Not only do you get a big bang for your buck, you'll discover new designers, fabulous clothes, and accessories at great prices! Here is our guide on the best shopping streets to visit in London:
Knightsbridge
An absolute must for efficient shopping! For starters, the glamorous enclave of Kensington is a shopper's paradise with designer labels such as Chanel, Chloe, and Dior along Sloane Street, as well as nearby luxury stores, Harvey Nichols and Harrods.
Shop at the leading fashion store where Princess Diana shopped, Harvey Nichols! Psssst…. Most sales starts on the 26th December with the famous Boxing Day sales!
Oxford Street
Oxford Street is home to some of the biggest and best department stores in the world. Think Selfridges, the first and largest department store in the UK, John Lewis, a personal favorite for style and quality at great prices. Then there's the enormous Marks and Spencer (M&S) flagship store where you'll find excellent value every day. They are famous for their quality cashmere, lingerie, children's clothing, men's clothing and more.
The Best Cashmere Sweaters on Earth: M&S have developed a double knit pure cashmere sweater – which is even machine washable – for £ 75. After tax back, that's basically $75. Wow, a bargain. Take a look here.
Regent Street
Head down Regent Street to find the amazing Liberty Store. We love Liberty's because they celebrate the wonderful designs of England, including their famous Haberdashery (fabrics) floor where their beautiful designs are much sought-after. You'll spend hours wandering through the many departments in this gorgeous building and discover the latest perfumes and cosmetics, fabrics, home accessories, jewelry and much more. You'll be smiling when you realize prices are 25% cheaper, and that's before you get your 20% Vat back and before the sales.
Bond Street
London wouldn't be London without stopping by the incredibly chic, Bond Street! Home to all the top designers from Amanda Wakely to Mulberry, Fendi, Vuitton, Chanel and many more. This location is also very accessible because just like Regent Street, it's just off Oxford Street.
Fortnum and Mason & Jermyn Street
A trip to London wouldn't be complete without a stop at the wonderful Fortnum and Mason store, where the Queen buys her tea. There are still footmen at the door. Beautiful gourmet foods and specialties, including their own dinnerware.
Jermyn Street is where all the English gentlemen had their suits made in the days of the Empire — and even today.
Chelsea and King's Road
Head to the King's Road in Chelsea where you can't not be excited by the uber-trendy boutiques and unique stores, just waiting to be discovered. That's the beauty of shopping in London – there's something for everyone to love!
Many of our apartments are located within walking distance to the King's Road in Chelsea, too!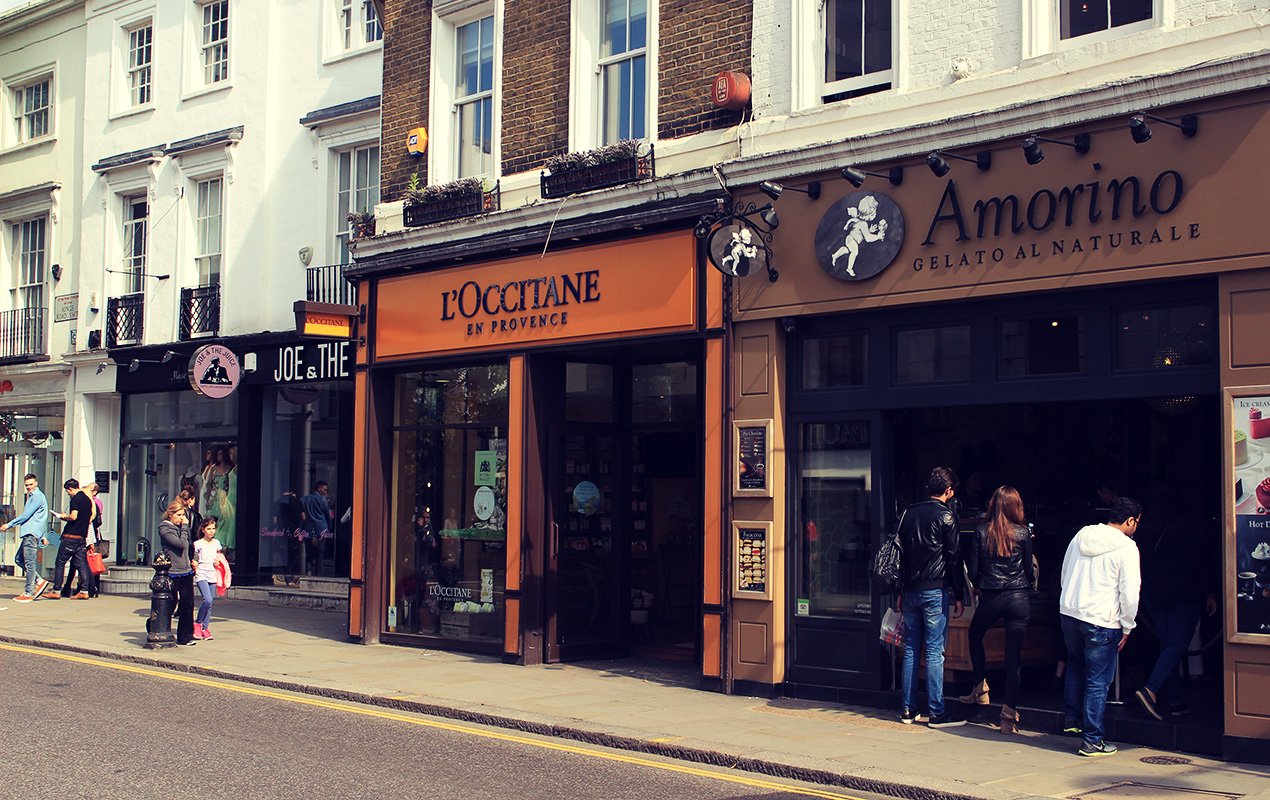 Kensington
Kensington High Street is another great find. Best of all, it's close to the museums, and many of our properties are located nearby so you can walk there, too. Excellent cafés and restaurants are also a gentle stroll away!
It's easy to see why shopping in London has never been so enjoyable. To make a booking for your next London vacation, our friendly reservations team looking forward to hearing from you!