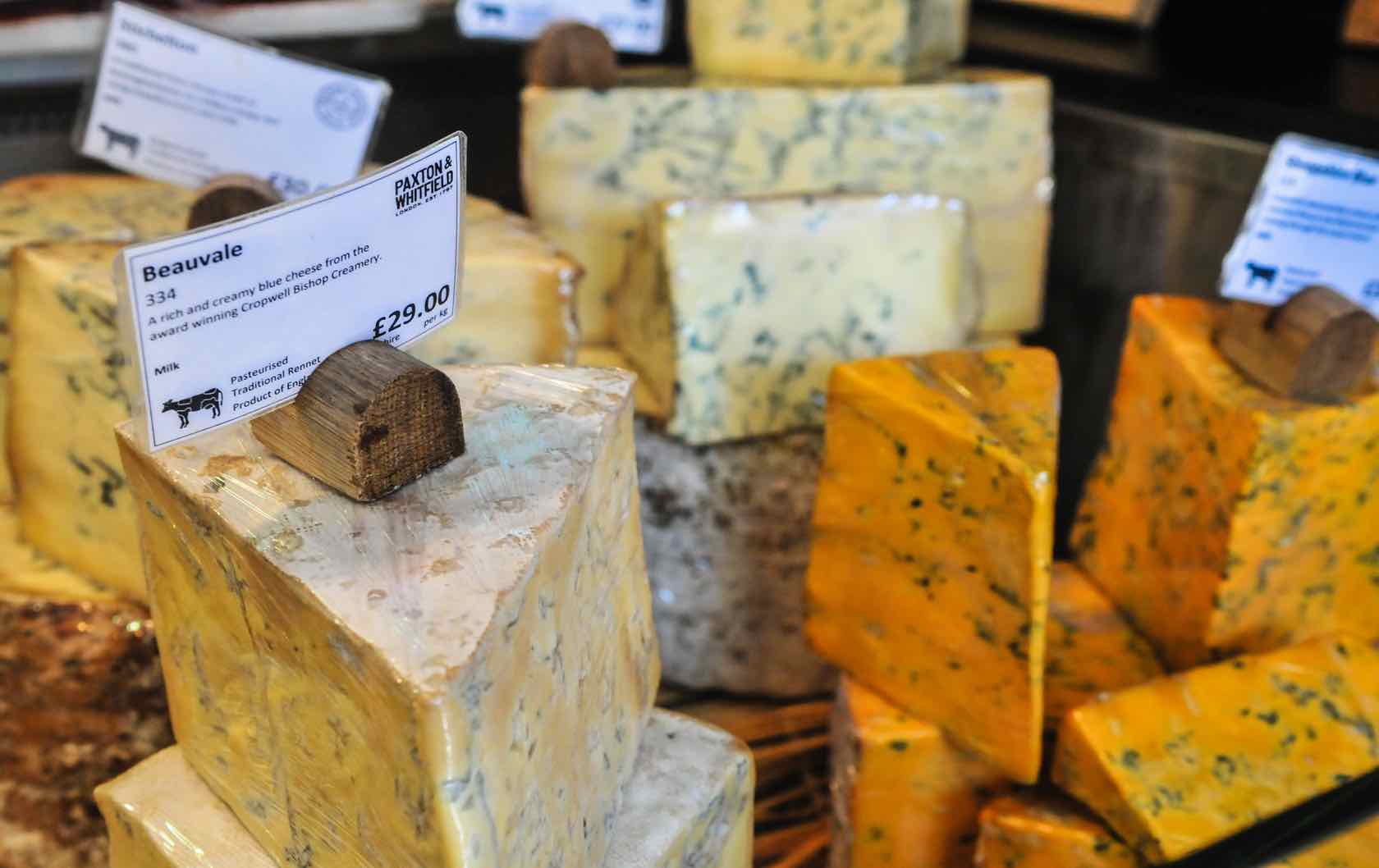 Buying souvenirs for friends and family can sometimes be a chore, but it doesn't have to be. On your next trip to London, skip the tacky cheap knickknacks, t-shirts and shot glasses, and try shopping for edible souvenirs instead, which are bound to be crowd pleasers. There are plenty of food souvenir stores in London selling quintessentially British nibbles that make perfect gifts and are easy enough to transport. Here are a few of our favorite shops.
Food Souvenir Stores in London
British Cheese At Paxton & Whitfield
British cheeses are a big deal. In fact, UK cheese exports recently surpassed the £615 million mark! The world over is finally appreciating delicious and unique British cheeses like Stinking Bishop, Colston Bassett Stilton and Wensleydale, (which is the favorite cheese of the British cartoon characters Wallace and Gromit). Don't let the funny names put you off—they're all delightful! To be sure to make a good impression on your friends and family back home, go to the high-end side of the spectrum and go shopping at the famous cheesemongers Paxton & Whitfield. Generally, you won't have trouble bringing cheese from the UK to the US—especially when it's commercially sealed and labeled.
British (and slightly French) Chocolate At Charbonnel et Walker
Almost everyone loves chocolate! Since 1875, the English Ms. Walker and the French Madame Charbonnel have been turning out exquisite chocolate in Mayfair, one of London's most esteemed addresses. You can easily reach the Bond Street store from the upscale Belgravia apartment.
Charbonnel et Walker is one of the few chocolatiers to have a Royal Warrant care of Her Majesty The Queen. And if these chocolates are good enough for the queen, they're sure to please your co-workers and relatives. Bring home a few boxes of their champagne truffles and everyone will thank you. Also, there are several other well-loved chocolatiers and confectionaries in London. Visit our favorite sweet shops here.
British Tea at Twinings
At 300 years old, Twinings is London's oldest teashop. It's also one of the best food souvenir stores In London because it has such a wide range of teas and gift sets to choose from, including "hampers" (gift baskets). There's even a very special London Edition tea range in cute little gift boxes. If you're looking for other tea options, check out our guide to our favorite London tea shops where you'll find a selection of rare and interesting tea brands that also make great mementos. Also, you could always grab some last-minute tea at Fortnum & Mason's airport outpost at Heathrow's Terminal 5.
British Gin at The Distillery
The Distillery is a multifaceted gin paradise in Notting Hill. In fact, it's located right around the corner from the Leicester and the Danebury. Along with two bars, The Distillery also houses The Ginstitute, a hands-on gin-blending experience, where you learn about making gin and then get to custom-blend your very own bottle to take home with you. Your artisan gin will make an extraordinary souvenir for yourself or a special loved one (who happens to also love gin).
You can also pick up a bottle of The Distillery's brand of gin called Portobello Road Gin, which is the key ingredient in a very British gin and tonic. As a mixer, try picking up a few bottles of Merchant's Heart, a British brand of tonic water, which can be found at fine retailers like Harvey Nichols and Fortnum & Mason. Pairing the Notting Hill gin and the British tonic water in a British-themed tote bag would make for a very cute gift. Also, as mentioned, The Distillery contains two popular bars, but if you're after more cocktail bars, check our list of favorites here.
Wine at Berry Bros. & Rudd
Since 1698, Berry Bros. & Rudd have been selling wine at their historical shop at No. 3 St James's Street. Today you can find 1,300 bottles of wines and spirits at this lovely old-fashioned shop. The wine starts from just £10—though the per bottle price can go over £10,000. Berry Bros. & Rudd have their own label of affordable wine that makes a great gift. One of their best sellers is the Berry Bros. & Rudd Good Ordinary Claret, which starts at only £5.75 per half bottle, making for a thoughtful (but affordable) souvenir.
Berry Bros. & Rudd also sell some wonderful British wines like the Nyetimber sparkling wine made in Sussex or the Flint Vineyard rosé made in Norfolk. They both make great souvenirs for wine enthusiasts.
No matter what British treat you're after, there are plenty of food souvenir stores in London for your shopping pleasure. For a vacation home in London near these great foodie stores and more, get in touch with us today.