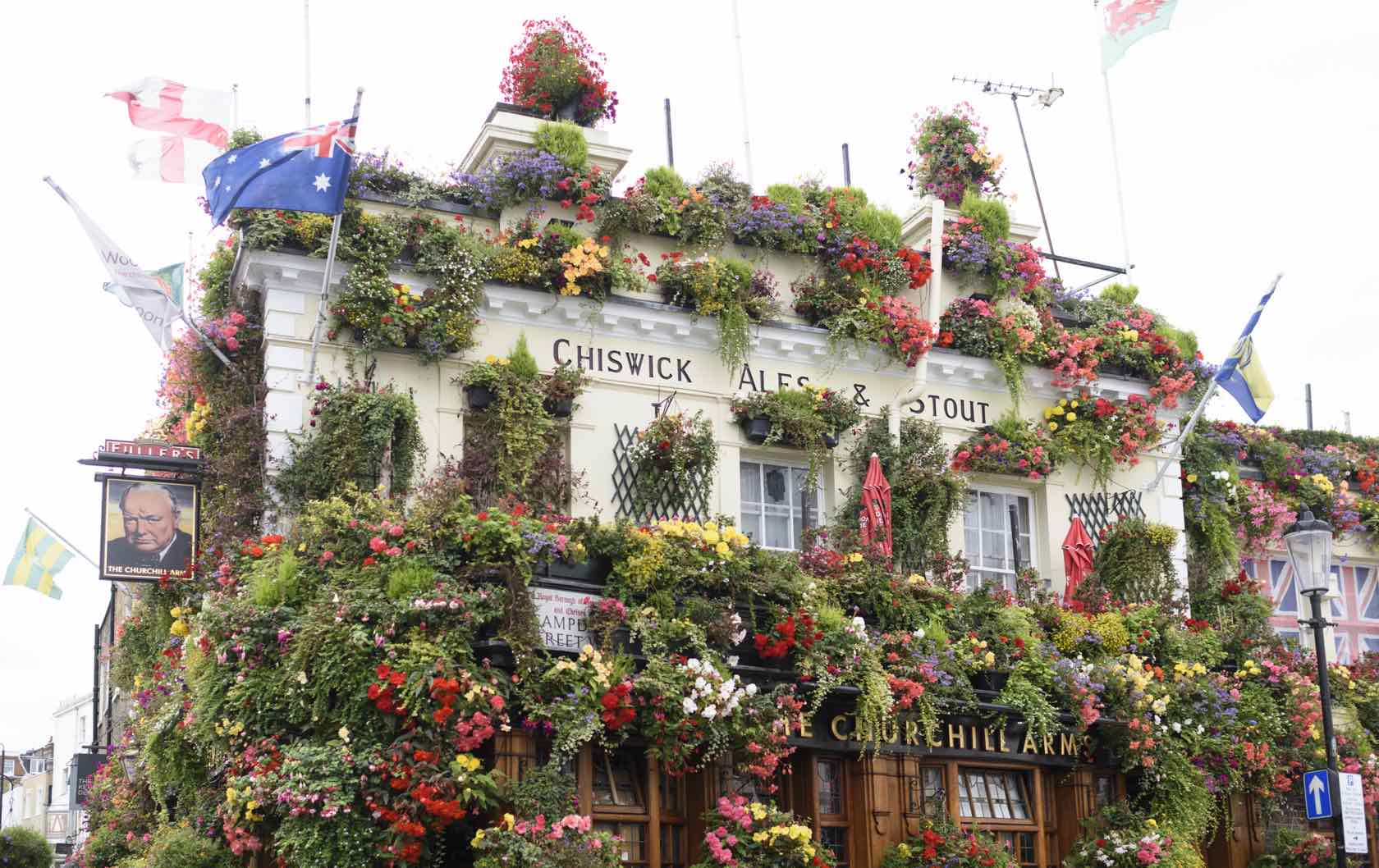 London is a hotspot for design—especially doorway design where storefronts are gorgeously dressed in florals to make a creative statement. These darling installations have been showing up across London on establishments likes retail shops, bakeries, restaurants and bars. The trend can largely be traced to the annual Belgravia in Bloom and Chelsea in Bloom events, which is when local businesses in Belgravia and Chelsea decorate their shopfronts, windows and doors with floral displays in honor of the RHS Chelsea Flower Show in May. Though May is the perfect time to see the most impressive storefront displays, some businesses like to show off all year round. Here are just a few of London's prettiest storefronts to visit on your next trip to the capital.
11 of London's Prettiest Storefronts
The Churchill Arms
Located in the heart of Kensington right near the Palace Gardens Apartment, the Austen, and the Hornton, The Churchill Arms is one of London's prettiest storefronts, as well as one of its most photographed. This flower-bedecked pub is a bastion of British eccentricity. Be sure to swing by and check it out while you're visiting the always-charming neighborhood of Kensington.
The Ivy Kensington Brasserie
About a ten-minute walk from The Churchill Arms, there's the famous Ivy Kensington Brasserie on Kensington High Street, which is very close to the gorgeous York apartment, as well as Kensington Court. Not only is The Ivy a pretty spot for a photo, but it's also a great spot for a full English breakfast.
34 Mayfair
In the heart of gorgeous Mayfair, you'll find plenty of photo-opps, but don't miss 34 Mayfair. This stunning grill restaurant doesn't skimp on presentation, and right now, it's overflowing with flowers. Also, this is another good spot for an incredible meal. On the weekends, they have the most divine brunch with a table-side bloody mary cart.
Neill Strain Floral Couture
Mayfair is also the home to Neill Strain Floral Couture, an award-winning florist with the most extraordinary exterior displays that change throughout the year.
Minnow
In the laid-back neighborhood of Clapham just off Clapham Common, the neighborhood restaurant Minnow is dressed to impress with floral installations that change with the seasons. Right now, Minnow is looking very seasonal in warm autumnal leaves and foliage.
Saint Aymes
Saint Aymes by Marble Arch, is a must for avid Instagrammers. It's been called the prettiest café in all of London. Not only is the floral exterior simply a dream, but treats like Unicorn Cloud Ice Cream bedecked in 24-karat gold and hand-painted chocolates will add magic to any social media feed.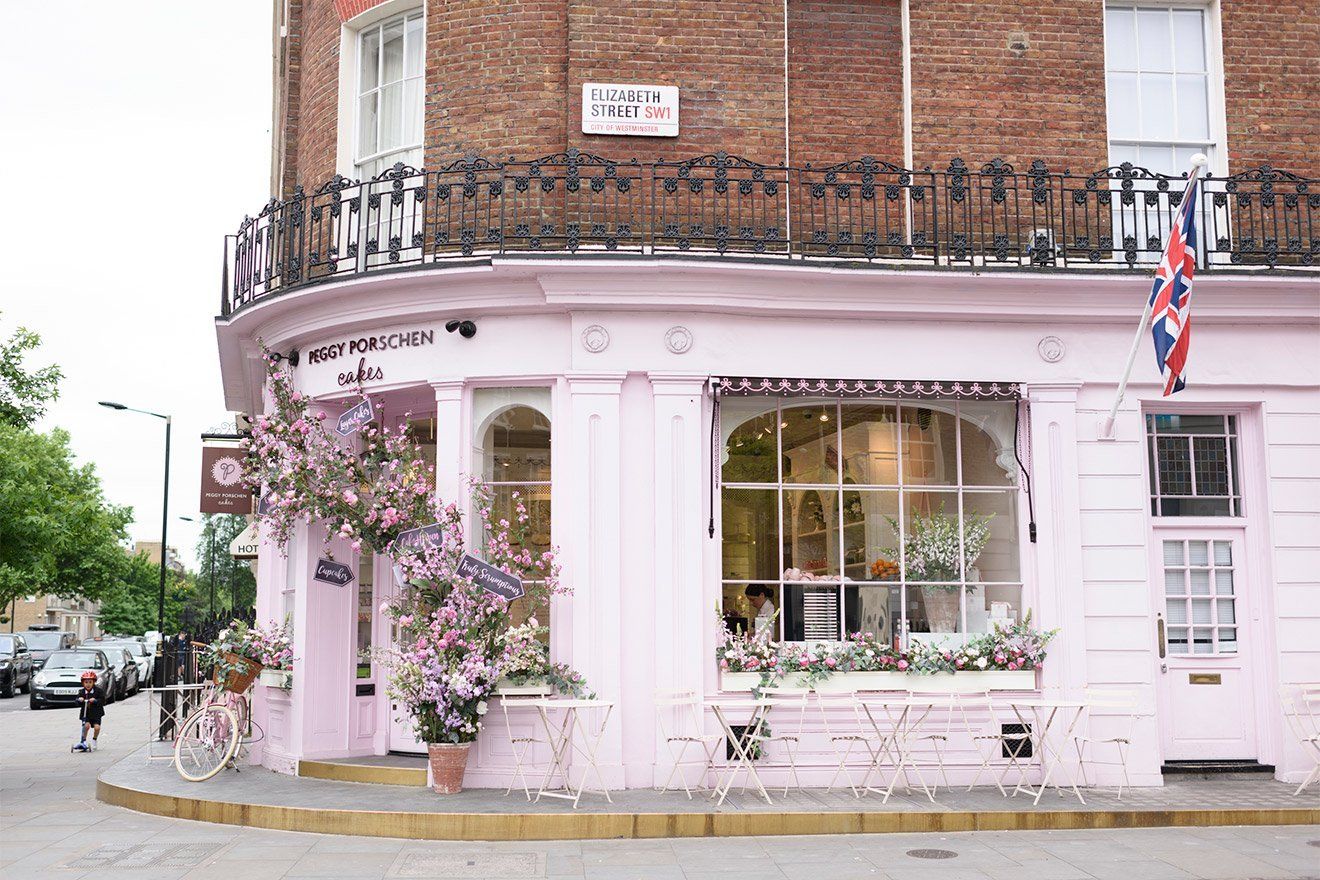 Peggy Porschen Belgravia
Another social media darling is Peggy Porschen Belgravia located right by the Wellesley and the Belgravia, which has a lovely fireplace. You may have to line up to get a table at this adorable pink palace, but you will end up with the perfect photos. (And everything tastes as good as it looks!) Just around the corner from Peggy Porschen Belgravia, there's Dominique Ansel Bakery London. It always has a gorgeous floral installation. Stop by and while you're there; don't forget to pick up a few cronuts.
No. Fifty Cheyne
With a robin's-egg blue exterior and a garland of pink flowers, No. Fifty Cheyne is a must-visit restaurant in the elegant neighborhood of Chelsea. (It's right by the Wellington, with charming outdoor space, and the stylish Pelham.) Stop by to take some photos, but also stay for dinner. They serve the most mouth-watering local British beef, which is cooked atop a massive grill in the center of the restaurant.
Nikki Tibbles Wild at Heart
One of the most celebrated florists in London is Nikki Tibbles Wild at Heart. At the Westbourne Grove Notting Hill shop, there are flowers aplenty. A little photoshoot in front of the flowers and the minty green store is just impossible to resist. Also, it's just a short walk away from the Leicester, which is a great option for couples.
No matter what time of the year you visit, London's prettiest storefronts will always impress with their seasonal decor. Get in touch with the team at London Perfect today to help you find a lovely London apartment that's just as photogenic as these gorgeous storefronts.