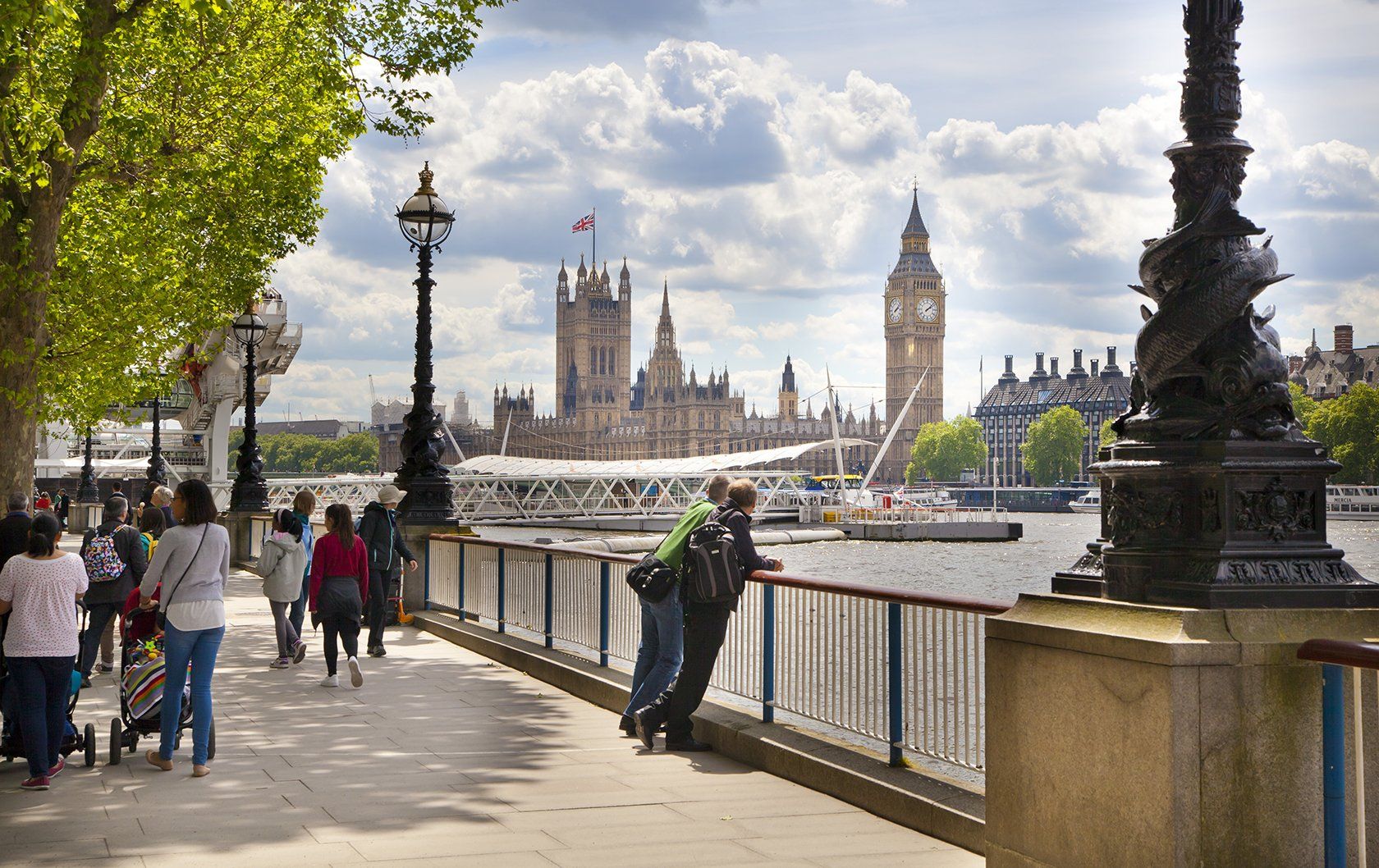 Summer is a great time to get out and about in London and there's no better way to explore this historic capital than on foot. Here's our pick of five wonderful walks in London, from waterfront wanders to park promenades. En route, you can admire gorgeous buildings, bridges and natural beauty, with stop-offs for snacks. We've shared route distances and estimated durations below, but do plan to take as long as you like to enjoy each one, or expand or combine them to really stretch your legs. Our London Perfect vacation apartments are the perfect jumping off spot for exploring London on foot – in the summer or anytime of the year!
River Ramble
Waterloo Station to St Paul's Cathedral (1.7 miles, 36 minutes)
Walks in London don't get more wonderful than this South Bank stroll along the Thames, taking in the city's famous sights. Lovely on a sunny day, it's also sensational at sunset. From Waterloo Station make your way to the waterfront via Concert Hall Approach. Swing left to go up observation wheel The London Eye. Then head right along the riverside esplanade past a quintet of impressive Brutalist cultural hubs: performance venues the Royal Festival Hall and Queen Elizabeth Hall, the Hayward Gallery, film centre the BFI Southbank and the National Theatre. Soak up seductive views of the city skyline across the river, as you pass fountains, sculptures, alfresco book markets, wharves, bridges and boats.
Trot on to the industrial-chic Tate Modern art gallery, with a lofty viewing deck and dining spots with river vistas. Cross over the pedestrian Millennium Bridge, opposite, which leads straight to historic St Paul's Cathedral, stunning inside and out. For a longer walk keep going past the Tate and replica Shakespeare's Globe theatre to Tower Bridge and heritage palace the Tower of London. Alternatively, foodies can bear south after The Clink Prison Museum to produce-packed Borough Market.
Market Meander
Notting Hill Gate to Golborne Road (1.2 miles, 25 minutes)
One of the most iconic walks in London, this short meander from Notting Hill Gate station sweeps down atmospheric Portobello Road, home to the famous outdoor antiques market. Look out for pastel-pretty terrace houses in pinks, blues and yellows, especially photogenic on Portobello's upper section after you turn in from Pembridge Road. Busiest on Fridays and Saturdays, Portobello Market starred in 1999 rom-com Notting Hill, with Hugh Grant's character striding through the fruit and vegetable stalls as the seasons change around him. The main market sells antique treasures, with stalls and surrounding shops also offering vintage finds; further down it changes to edible produce, food stands and local fashion, including secondhand clothing.
Tempting restaurants, delis and pubs line Portobello Road, including Gold (95-97), The Hummingbird Bakery (133) and Pizza East (310). Find more smart dining and shopping on offshoot Westbourne Grove. Keep going under the Westway flyover to Golborne Road where antique stores, galleries and boutiques beckon, including a bric-a-brac market and laid-back Portuguese cafés Lisboa (57) and O'Porto (62A), perfect for sipping milky galão coffee in a glass with pastéis de nata (custard tarts). This half-hour walk can easily turn into a day of wandering around this delightful neighborhood.
Park and Palace Promenade
Trafalgar Square to Kensington Palace (3.3 miles, circa 1 hour 10 minutes)
For a right royal London walk, this route takes you from Trafalgar Square to Kensington Palace via some of the capital's best parks. After admiring Nelson's Column in Trafalgar Square, head along The Mall into St. James's Park, a green oasis with a pelican-flocked lake and lovely trees. Wander the length of the park, exiting beside the Victoria Memorial and monumental Buckingham Palace. Dip into verdant Green Park and walk to the Wellington Arch at Hyde Park Corner. From here enter vast, beautiful Hyde Park; stroll along the southern side of The Serpentine lake, home to the Serpentine Lido for swimming and an airy café, before pausing at the Princess Diana Memorial Fountain. Continue across West Carriage Drive to the Serpentine Gallery, boasting modern art plus an architectural pavilion in summer. Mount Walk leads to the Round Pond and Kensington Palace (currently displaying Diana's wedding dress and a new permanent statue of the Princess in the Sunken Garden).
For a longer, seven-mile trail, The Diana Princess of Wales Memorial Walk is charted by 90 plaques and takes in four royal parks, three palaces and two mansions that figured in Diana's life. You can download a map, incorporating our shorter route.
Canal Caper
Little Venice to Camden Lock (2.6 miles, 55 minutes)
This romantic walk traces the Regent's Canal from west London's Little Venice to Camden in the city's northwest (download an illustrated route map). Start at Warwick Avenue Station before heading down Warwick Avenue to Browning Pool in Little Venice, a secret London spot. Grab coffee or a bite at the Waterside Café, set around a flower-draped canal boat, with views of the triangular basin's Browning Island. The pool is the junction of the Grand Union and Regent's Canal; follow the latter north-east along the towpath, passing colorful houseboats, Regency terrace houses, swans, geese, ducks and leafy trees.
Traversing Regent's Park, the towpath offers cute glimpses of London Zoo's aviary and giraffes. Just before the scarlet Feng Shang Princess floating Chinese restaurant, the canal curls north away from the park towards Camden Lock, home of the legendary market. Open daily from 10am to late, Camden Market hosts interesting shops, stalls, bars, street food vendors and cafés, ideal for retail therapy and carb loading after your exertions. This walk is part of the 60-kilometre Jubilee Greenway if you want to extend the experience, or begin earlier at Grand Union Canal near Golborne Road to connect from our Market Meander route.
Heath Hike
Heath Circuit including Parliament Hill and Hampstead Heath (6 miles, circa three to four hours)
The six-mile Heath Circuit loop is one of the most unforgettable walks in London, circling Hampstead Heath, the city's lofty green lungs. It starts and finishes at Parliament Hill Café near Gospel Oak Station. In north London, the wild and leafy Heath promises dreamy views over the urban skyline below, especially from Parliament Hill. Along the early part of the route, the Heath's natural pools offer cooling swim spots. They're divided into Men's, Ladies' and Mixed ponds, plus there's family-friendly Parliament Hill Lido. Refuel afterwards at seventeenth-century stately home Kenwood House, which serves up pastries and lunch. Keep an eye out for ornate fountains, ancient woodland, a Saxon ditch and migrating birds.
The downloadable trail map includes a shorter 1.5-mile option climbing Parliament Hill for pleasing panoramas and a 1.7-mile trail west to Sandy Heath and the Pergola. You can also shrink the main Circuit walk, cutting out map points 6 to 8 across Spaniards Road. If you want to walk on, Highgate Cemetery is just to the east. Opened in 1839, it's home to many renowned graves, including political philosopher Karl Marx, novelist George Eliot, artist Patrick Caulfield and musician George Michael (book timed tickets in advance).