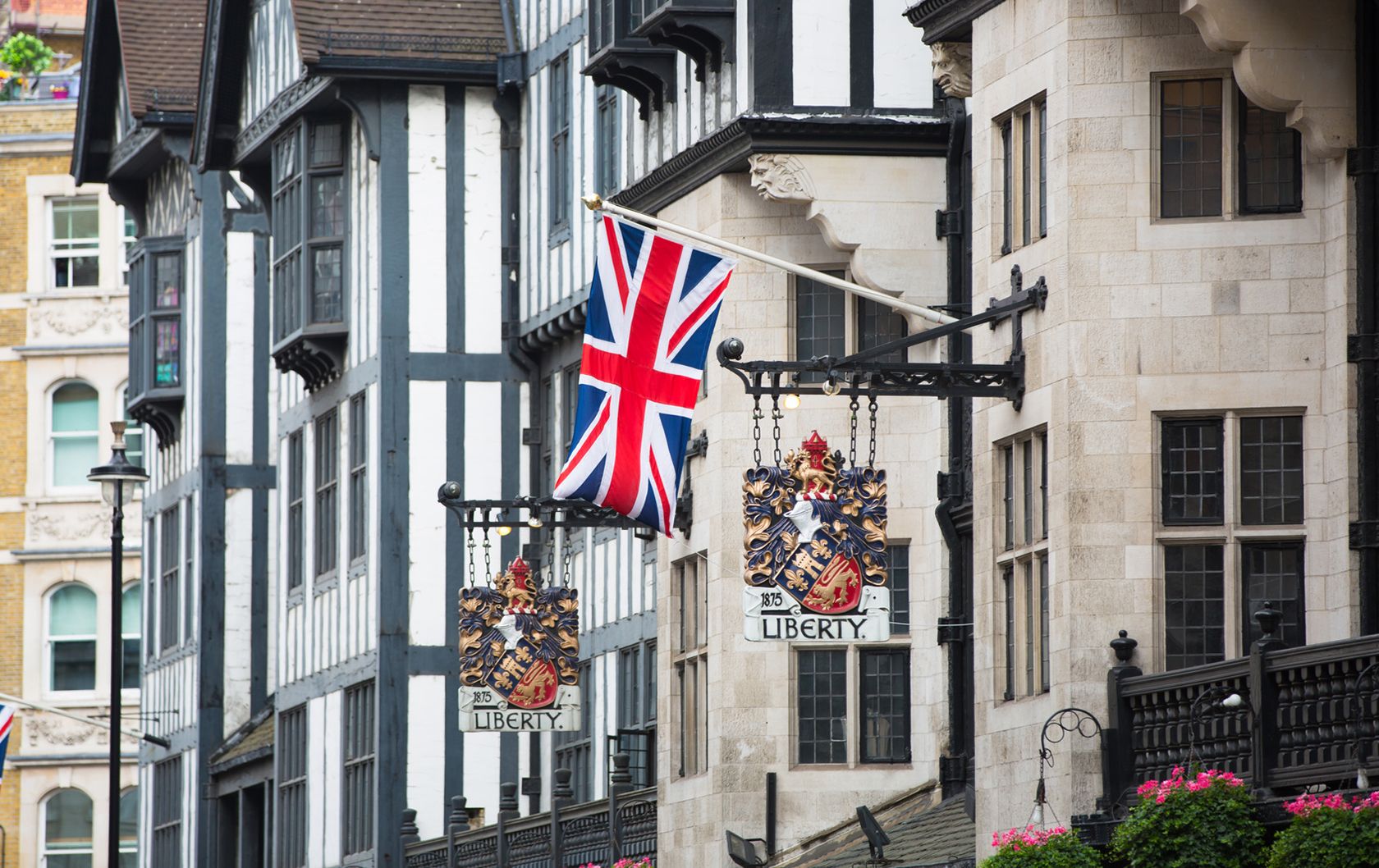 When it comes to shopping, London offers something for every taste, from the quirky charm of Carnaby Street to the finely tailored fashions of Savile Row. Yet, in a world that's increasingly commercialized and rushed, there's joy in shopping at a slower pace and supporting brands and designers that celebrate craftsmanship and tradition. For your next London shopping trip—or inspiration for London gifts from afar—here's our list of some of the top British heritage brands that have stood the test of time. We've handpicked a selection of fashion, accessories and interior design brands that continue to be style leaders, whether that be with a classic or modern style.
View this post on Instagram
Lock & Co.
It doesn't get much more heritage than Lock & Co. Behind this absolutely charming hat shop on St. James's Street is an incredible history. Founded in 1676, Lock & Co. is the not just the oldest hat shop in London, but is, in fact, the oldest hat shop in world, as well as one of the oldest family-owned businesses. Producers of hats and leaders in fashion for centuries, they've created iconic pieces for the likes of Lord Nelson, Winston Churchill, Charlie Chaplin, Jacqueline Kennedy and many more iconic figures. They even created the fitments for the coronation crown worn by The Queen on June 2, 1953. With a variety of styles for men and women from everyday to couture, stop in Lock & Co. for a souvenir that exudes London style and heritage. Address: 6 St James's Street, London
View this post on Instagram
Hunter Boots
Combining heritage with practicality since 1856, Hunter Boots create the world's most recognizable and appreciated rain boots. While production of rubber boots began in the mid 1800s, it shifted into high gear during wartime. The company produced 1,185,036 pairs of trench boots for soldiers during WWI and was again called to supply rubber boots and materials during WWII. After the war, the now famous Wellington boot was introduced in 1956. Staying true to tradition, the iconic tall boots and Chelsea boots are still handcrafted and are well-loved staples of a British wardrobe. Why not muck around in the rain with a pair a rain boots by the company with a Royal Warrant appointed by The Queen?
View this post on Instagram
Pickett London
For luxury leather goods handmade in England from start to finish, head to Pickett. The Burlington Gardens location in Mayfair is tucked away in the haven of luxury shopping that is Old Bond Street, Piccadilly and Burlington Arcade. Launched in 1988 by Trevor Pickett, this London brand has over 30 years of experience creating handcrafted leather goods and stunning gifts produced by specialist workshops and craftsmen to support the British leather industry. Pick out a timeless and perfectly crafted bag or splurge on an exquisite backgammon set that will become a family favourite! London Addresses: Albany 10-12 Burlington Gardens, Mayfair; 149 Sloane Street, Chelsea
View this post on Instagram
Penhaligon's
Travel and scent are inextricably connected for many people. Stop in one of Penhaligon's shops to find a scent that you'll forever connect to your time in London. This classic British perfume house was created by William Penhaligon who set up a barber shop on trendy Jermyn Street in 1870. In a short time, his creative perfumes caught the attention of high society and he passed his skill in creating exotic and captivating scents to his son Walter. By 1903, Penhaligon's was awarded its first Royal Warrant by Queen Alexandra and today boast a Royal Warrant from The Prince of Wales that was granted in 1988. Stepping into one of the Penhaligon's shops on Regent Street, Covent Garden or Kings Road is a visual and olfactory treat. The bottles have a delightfully historic feel with cheeky names like The Tragedy of Lord George and Much Ado About the Duke that just beg to be discovered. Addresses: 125 Regent Street; 25 Kings Road, Chelsea; 41 Wellington Street and 13 Market Building, Covent Garden
View this post on Instagram
Grenson
If you think heritage doesn't mean fashion forward, meet Grenson. Founded in 1866 in Northamptonshire, Grenson made its name making long lasting and sturdy boots for British soldiers during WWI and both British and Allied soldiers for WWII. In 2016, to celebrate its 150th anniversary, Grenson created an Archive Collection that painstakingly recreated original designs from the company's history. Production is hand crafted in their UK factory and traditional designs take 8 weeks and over 200 steps to complete. While not an affordable purchase, these shoes are made to last and the design process means they can be re-soled many times making them an excellent investment. Addresses: 40 Lamb's Conduit St, Bloomsbury; 13 Meard St, Soho; 37 Jermyn St, St James; 18 Hanbury St (factory outlet)
View this post on Instagram
Hackett
Quintessential British style and Savile Row are inseparable when it comes to men's fashion in London. That's exactly where Jeremy Hackett began working in the 1960s. By the 80s, he took that experience and his unique style to create his own designs combining elements of tradition attire with modern touches. Now you'll find Hackett on Savile Row and in London's most stylish spots like Jermyn Street – a must for menswear shopping in London. London addresses: 37 King Street, Covent Garden; 87 Jermyn Street, St James's; 14 Savile Row, Mayfair; 193-197 Regent Street; 137-138 Sloane Street
View this post on Instagram
Noble Macmillan
Founded in the 1980s, Noble Macmillan is a stylish address for stationary, journals, albums, accessories and gifts. While younger than other stationary brands like Smythson that we shared about in How to Shop Like a Royal in London, Noble Macmillan is a treasure trove with a delightfully hidden feel. You'll find it tucked away in one of London's most charming mews in South Kensington just around the corner from the Natural History Museum. Pick up a special gift while shopping in London or have an album created as a family keepsake for your London holiday and get it engraved while you wait! Address: 9 Elvaston Mews, London
View this post on Instagram
Halcyon Days
A recognized leader in English fine bone china, Halcyon Days is dedicated to preserving British craft traditions with a distinctive touch of elegance. In 1950, when it was founded, the company set about reviving the British art of enamelling. Today their craftsmen and artists continue traditions passed down for generations to create gorgeous enamel boxes as well as fine bone china and accessories. All of their enamels are still handcrafted in their factory in Wolverhampton in central England. Visit the Halcyon Days luxury boutique at the Royal Exchange or shop their products in London at Harrods and Fortnum & Mason. Address: 27 Royal Exchange, London
View this post on Instagram
Liberty
Far more than a brand, Liberty is an immersive heritage shopping experience like no other. Although we shared about Liberty in our Guide to The Most Iconic London Department Stores, it deserves a special mention here as it's one of the best spots in London to shop for British brands in a historic setting. While the origins of Liberty go back to 1875, the striking Tudor building was created in 1924 and was made with the timbers of two historic battle ships: the HMS Impregnable and the HMS Hindustan. It's not every day you can shop in a building quite literally made of wooden ships – and it certainly does not disappoint. And, yes, there's even a satisfying creak of the old wooden steps as you explore floor after floor of fashion, beauty and décor that blends tradition and cutting edge fashion better than any other spot in London. Address: Regent Street at Great Marlborough Street, London
View this post on Instagram
House of Hackney
Add a touch of floral filled whimsy and warmth to your home or wardrobe from British luxury brand House of Hackney. Founded in 2011 by husband and wife team Frieda Gormley and Javvy M Royle, House of Hackney's designs are inspired by nature and British craft traditions. They describe their pieces as 'future heirlooms' – the types of pieces you'll treasure now and for years to come. Find everything from wallpaper to curtains, rugs, throw pillows, bedding and more for the home. Luxurious silks and velvets are used to create their fashion line, which also features collabs with British classics like Barbour – one of our favourite British fashion brands. Shop at the dreamy House of Hackney flagship store in Shoreditch or at luxury department stores Liberty London and Harrods. Address: 131 Shoreditch High Street, London
Looking for more London shopping tips? Don't miss Where to Buy the Best British Craft and Design in London and Charming London Bookshops to Satisfy your Inner-Bibliophile. Then dive into our complete London Shopping Guide that covers the top shopping spots in the UK capital!